The Male Equation
02.07.12

One of the hardest fashion challenges for women is trying to revamp a man's style.  Sometimes the guys in our lives need and want a little help.  But it's the women who don't know where to start.   We can tell you fit is key.  The biggest improvement you can make in your man's dress is to make sure everything is tailored well.  The biggest mistake that men make is to wear clothes that are too large.  However, size and fit are only the beginning of this challenge. So, Cotton Candy asked Chicago-based stylist Theresa DeMaria to give us the formula for perfect GQ style.   Read on dolls.
Don't try to change everything at once.
You want him to look great, but don't lose his personality.  Make it a long term process, and start with something basic, like jeans and shoes.  These are key items to a look, and if those two things are right, the rest will follow.  It shows that you're a man of taste by getting a great pair of shoes and keeping them in pristine condition.  If he likes to wear sporty clothes, add a jean or leather jacket over his hoodie for a more modern twist. The more conservative man doesn't have to look boring and stuffy.  Make sure his suit has a modern cut, maybe a splash of color in his tie and pocket square or go for no tie and update it with a nice patterned shirt.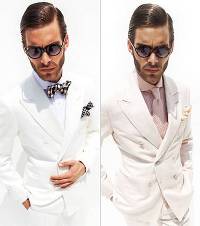 Pay attention to your supporting pieces.
Some sweaters are lean while others are big and chunky. The first rule of thumb is that your top and bottom halves need to match. If you're wearing a big, chunky, rugged fisherman knit sweater, your bottom needs to be rugged, too.
Don't let him shop alone.
Shop with your man.   Gently give him suggestions and positive feedback on the clothing that is modern and different for his wardrobe.  Make the experience fun for him, and he will be more likely to want more advice from you.
Don't forget the details.
The details can include a scarf, a pocket square, watch, belt, or the way he ties his tie.  These items can make or break a look, so it takes balance and experience to get it right.  Always err on the side of simplicity until you are confident in accessorizing.  A solitary scarf is modern and can be classy or sexy.  Hats – we love fedoras – are also a great way to show off style.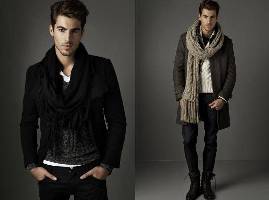 Remember trends come and go.
Start with clean-cut basics, and build on that. Make sure your guy has a few basic tees, simple jackets, good fitting jeans and a variety of cool and classic shoes.  It's better to build a versatile and timeless wardrobe first – then bring in the trendier fashion pieces.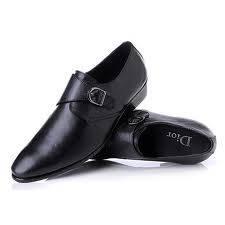 Go for quality not quantity.
Many guys are overwhelmed by large wardrobes.  They may give up quick and go back to what they know.  Teach him to buy good quality staples that will last and show class and good taste.
It's not all about the clothes.
A great shave and haircut speaks volumes.  Make sure he has a good modern haircut that works with his lifestyle.  Investing in a top notch hairstylist is as important as a good pair of shoes.