Modern Art at Its Best
05.11.11

As one of Chicago's major museum buildings and one of the nation's largest facilities devoted to the art of our time, the  Museum of Contemporary Art Chicago offers exhibitions of the most thought-provoking art created since 1945. With more than 5,700 works and features displayed,  the MCA documents contemporary visual culture through painting, sculpture, photography, video and film, and performance. Located near the historic Water Tower in the heart of Chicago's famed Magnificent Mile, the MCA features naturally-lit collection galleries and a terraced sculpture garden with a view of Lake Michigan. Cotton Candy has asked Julie Rodrigues Widholm, the Pamela Alper Associate Curator at the Museum of Contemporary Art Chicago, to share some of her favorite pieces of art from the vast collection. (Dolls, clicks on the photos below.)
Rashid Johnson, Self-Portrait with my hair parted like Frederick Douglass, 2003.
Description: The title says it all.
Why it's a favorite: Johnson's work is shifting the dialogue about representations of black identity. This photograph reflects how younger artists, such as Johnson, pay homage to important artistic and intellectual ancestors while trying to figure out their place within history and art history.
Doris Salcedo, Untitled, 2008.
Description: Two large armoires were dismantled, intersected and filled with concrete.
Why it's a favorite: Salcedo's laboriously crafted sculpture stems from the history of violence in Colombia but she transforms the relics of violence into a poetic sculpture that alludes to presence and absence within the home.
Abraham Cruzvillegas, Bougie du Isthmus, 2005.
Description: A large sculpture made of fishing poles, wine rack, and scarves found at a French flea market.
Why it's a favorite: I love the way Abraham uses materials, or what he calls "leftovers," taken from wherever in the world he is working to create whimsical and precariously-balanced sculptures.

Thomas Houseago, Untitled, 2008.
Description: A large over-scaled reclining figure made out of plaster.
Why it's a favorite: Houseago is a new master of the human figure, alluding to ancient, classical and modern figurative sculpture but with his own fresh take. I particularly love the giant hands and feet on this sculpture.
Leon, Golub, Reclining Youth, 1959.
Description: A roughly textured painting of a reclining figure whose hand is missing.
Why it's a favorite: Golub's painting is so universal and timeless that I can find a way to curate it into almost any exhibition. That's a sign of an amazing piece of art.
Felix Gonzalez-Torres, "Untitled" (The End), 1990.
Description: A low stack of white paper with a black border.
Why it's a favorite: Felix Gonzalez-Torres wanted viewers to take a piece of his work and spread it around the world like a virus. His work is generous, innovative, and personal and he is one of the most influential artists of the late 20th century.
Mike Kelley, Craft Morphology Flow Chart, 1991.
Description: A large installation of hand-made dolls from thrift stores are scientifically photographed and arranged on folding tables.
Why it's a favorite:  Following the economic boom of the 1980s, Kelley began to investigate what we value and why, looking at the "abject" side of human nature and psychology of childhood. In this work he questions how these dolls that were so lovingly hand-made were eventually tossed aside and given away once they became worn or over-used.
David Hammons, Praying to Safety, 1997.
Description: Two 18th century Thai Buddhist statues are connected by a string holding a safety pin.
Why it's a favorite: Hammons's witty play on words is an amazing juxtaposition of the material and spiritual worlds.
Claire Zeisler, Fragments and Dashes, 1978-80.
Description: A collection of knitting needles, rocks, and other small items covered with knitted and crocheted cozies.
Why it's a favorite:  I love the absurdity of Zeisler's creation of small custom made cozies for these objects that have no function. Her work is a synthesis of craft and post-minimalism.
Robert Rauschenberg, Retroactive II, 1963.
Description: A silk-screen painting of JFK and an astronaut.
Why it's a favorite: Rauschenberg was among the first pop artists to use images from newspapers and magazines in his work to talk about current social issues, a strategy that continues to be vital to artistic practice today. The depiction of JFK the year he was assassinated and ongoing missions to reach the moon were the biggest stories of the time.
Joseph Grigely, What Did I Say?, 2008.
Description: A collection of hand-written notes and conversations arranged in two grids, one white, one multi-colored.
Why it's a favorite: Grigely, who is deaf, collected notes from conversations with people and re-arranged them to create absurdly nonsensical juxtapositions when read together as a whole.
Cindy Sherman, Untitled Film Still #14, 1978.
Description: A black and white photograph of Sherman dressed as mid-century film ingénue.
Why it's a favorite: Sherman's work has become iconic in its deconstruction of the representation of women through film and media.
Jeff Koons, Rabbit, 1986.
Description: A stainless steel cast of an inflatable rabbit holding a carrot.
Why it's a favorite: Koons's Rabbit is an icon of the 1980s as well as an icon of the MCA Collection. It's elevation of a common inflatable toy to expensive high art challenged the value of taste and art.
Kay Rosen, Yours/Ours
Description: A yellow and black wall mural with Y and Ours painted on two separate walls.
Why it's a favorite:  Kay Rosen is a master of playing with the appearance and meanings of written words. In this large wall mural she questions the role of the individual and the group by making Ours part of Yours.
---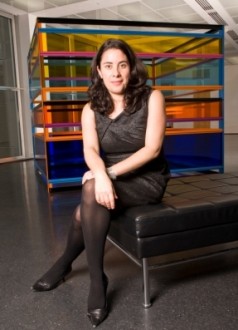 About Julie Rodrigues Widholm
Julie Rodrigues Widholm is the Pamela Alper Associate Curator at the Museum of Contemporary Art Chicago. Since joining the museum in 1999, Rodrigues Widholm co-authored Life Death Love Hate Pleasure Pain, a catalogue of the MCA Collection, and curated large exhibitions including Seeing Is a Kind of Thinking: A Jim Nutt Companion; Rewind: 1970s to 1990s; Constellations: Paintings from the MCA Collection; MCA Exposed: Defining Moments in Photography, 1967-2007 and Escultura Social: A New Generation of Art from Mexico City. She has also worked with internationally recognized artists including Luc Tuymans, Richard Tuttle, Fiona Tan, Joseph Grigely, Jose Damasceno, Julian Opie, and dozens of emerging Chicago-based artists for the UBS 12×12 series. She is currently organizing a 10 year survey of New York-based artist Rashid Johnson's work and a major exhibition of Colombian artist Doris Salcedo's work.