Holiday Eats Like No Other
11.11.11

One of the biggest aspects of the holiday season is the food.  With numerous parties and the culmination of family holiday dinners, this time of year is ideal to show your kitchen skills. Cotton Candy Magazine® encourages you to go all out with unique, scintillating holiday creations.  That's why we've solicited the help of Chef Evelyn Paul who has created one of the most delectable, scrumptious holiday menus you'll ever sink your teeth into.

Holiday Menu from Chef Evelyn Paul: Skinny Thanksgiving Turkey Dinner with All the Trimmings
Herb Brined Smoked Turkey with Quinoa Stuffing and Herbed Pan Gravy
Cranberry, Pear and Orange Relish
Holiday Green Beans and Red Bell Peppers with Almonds
Low-fat Mashed Potatoes Gratin
Pumpkin Bread Pudding
Herb Brined Smoked Turkey
Serves: 8
Prep time: 4 hours 10 minutes, plus 24 hours for brining
Secret ingredient: bay leaves, included in the brine, that promote healthy digestion and garlic which reduces high blood pressure and bad cholesterol.
3 gallons cold water
2 cups kosher salt
2 cups honey
2 large onions, chopped
6 cloves garlic
1 small stalk celery, chopped
2 carrots, chopped
6 bay leaves
2 tablespoons dried sage
2 whole lemons, halved with skin
2 tablespoons black peppercorns
4-5 sprigs fresh thyme
1 12- to 14-pound naturally fed, free-range turkey
3 tablespoons extra-virgin olive oil for basting
1 large sprig rosemary for basting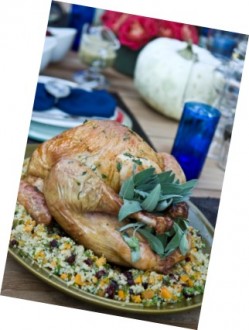 Bring 1 gallon of water to a boil in a large nonreactive pot that will hold your turkey and fit in your refrigerator. Stir in salt and honey until completely dissolved. Turn off the heat. Stir in onions, garlic, celery, carrots, bay leaves, sage, lemons and thyme. Add the remaining 2 gallons water. Place the turkey in the brine and weight it with a plate, if necessary, so it stays below the surface of the brine. Cover and refrigerate for 24 hours.
Preheat a smoker to 275°F.
Remove the turkey from the brine, brush off any briny bits and let stand at room temperature for 30 minutes.  Discard the brine. Tuck the wing tips under the turkey. Tie the legs together with kitchen trussing string. Pat the surface of the bird with clean paper towels.
Place the turkey on the grate of the smoker over the drip pan away from the fire. Brush with olive oil. Baste the turkey with olive oil every hour. If the skin starts to brown too much, tent the bird with foil. Use an instant read thermometer to test for doneness (the turkey is ready when the thigh meat is 180°F / 85°C). Transfer the turkey to a large, clean cutting board and let it rest, loosely covered with foil, for 20 minutes before removing the string and carving.
Quinoa Stuffing
Serves: 8
Prep time: 1hour
Secret ingredient: quinoa
Quinoa is the seed of a leafy plant; its relatives include spinach, beets and Swiss chard. It is a highly nutritious carbohydrate that will help you stay lean, while maximizing your energy levels.
Water for boiling
3 bay leaves
Salt to taste
2 cups quinoa
1/4 cup olive oil, divided
2 green apples cored and cut into 1-inch cubes
1 small butternut squash, peeled and diced
2 bunches green onions, chopped
1 cup dried apricots, diced
1 cup dried cranberries
1 cup fresh parsley, chopped
1/2 cup fresh basil, chopped
½ cup fresh mint
1 lemon, for grated peel and juice
Salt and pepper to taste
In a large sauce pot, bring 4 cups of water to a boil; add bay leaves and salt. Add quinoa and return to a boil. Lower the heat, and simmer, covered, for 20 minutes or until quinoa absorbs water. Remove from heat and remove bay leaves. Let the quinoa cool. Heat 3 tablespoons of olive oil in a frying pan. Sauté the apples and squash, and cook until slightly browned. Combine the vegetables and quinoa. Add the remaining olive oil. Stir in onions, apricots, cranberries, parsley, basil and mint. Grate in lemon peel and squeeze on lemon juice to taste. Season with salt and pepper. Serve warm.
Cranberry, Orange & Pear Relish
Serves: 2 cups, enough for 8
Prep time: 25 minutes
Secret Ingredient: agave nectar
Made from the Mexican agave plant, agave nectar compared to other sweeteners has a desirable low-glycemic index. This means that when consumed, it won't cause a sharp rise or fall in blood sugar.
1 (12-ounce) package fresh cranberries, picked over and stems removed
1 orange, peeled, seeded and quartered
2 firm pears, peeled and cored
1 small white onion, finely diced
1 jalapeño pepper, seeded and minced
1 tablespoon orange zest
1/4 cup fresh cilantro, chopped
1/2 teaspoon kosher or sea salt
3/4 cup agave nectar
1 tablespoon lime zest
3 tablespoons fresh lime juice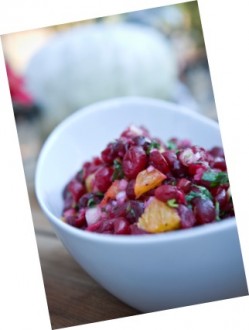 Process the cranberries, orange and pear in a food processor until coarsely chopped. Transfer to a medium bowl, and add the remaining ingredients. Stir the mixture well to combine.
Transfer the cranberry mixture to a serving bowl; cover and refrigerate until ready to serve.
Low-Fat Herbed Turkey Gravy
Serves: 1 ½ cup, enough for 8, 1 and ½-ounce servings
Prep time: 15 minutes
Secret ingredient: herbs
The herbs in this easy gravy are soothing and aromatic – perfect for indulging the senses and making your turkey even tastier.
2 cups skimmed turkey drippings (from the smoked turkey, above) or low-fat chicken broth
1/8 teaspoon white pepper, ground
1/4 teaspoon minced fresh parsley
1/4 teaspoon minced sage
1/4 teaspoon minced thyme
1/2 cup skim milk
2 tablespoons cornstarch
Salt to taste
Strain turkey drippings through a sieve, reserving the liquid, and discard any solids.
Skim the fat from the drippings.
Pour the liquid drippings into a heavy-bottomed saucepan over medium-high heat. Add the white pepper and herbs and bring to a simmer.
In a separate dish, mix together the cornstarch and milk until there are no lumps; slowly pour the mixture into the drippings, stirring constantly with a wire whisk. Continue cooking until thickened.
Season with salt to taste as needed.
Smashed Potato Gratin
Serves: 8
Prep Time: 1hour, 20 minutes
Secret ingredient: Yukon Gold potato skins
This honorable vegetable gets a bad rap because of its high carb count, but potatoes are a great source of vitamin A which promotes good vision, healthy skin, and an improved immune system. Yukon Golds have a higher nutritional content than other "white" potatoes. The peel also stores good amounts of potassium, helping to reduce risk of stroke. 
2 1/2 pounds Yukon Gold potatoes, washed but not peeled and cut into 2-inch chunks
1 cup (4 ounces) 2% cheddar, shredded and divided
1/2 cup (3 ounces) gruyère cheese, shredded and divided
1 tablespoons butter
Salt and white pepper to taste
1 cup 1% low-fat milk, warmed
Cooking spray
Preheat the oven to 400°.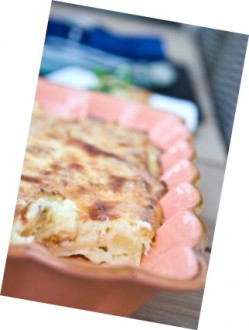 Place potatoes in a large Dutch oven. Cover with water and bring to a boil. Reduce heat, and simmer 15 minutes or until tender; drain and return potatoes to the pot. Add ¾-cup cheddar cheese, ¼-cup gruyère cheese, butter, salt, and pepper to the pan. Mash with a fork or potato masher until well combined. Add the warm milk and continue mashing the potato mixture until desired consistency. Spoon into a 13 x 9-inch baking dish coated with cooking spray; sprinkle evenly with remaining 1/4 cup cheddar cheese and remaining 1/4 cup gruyere cheese. Cover with aluminum foil lightly sprayed with cooking spray. Bake at for 20-25 minutes. Remove from the oven and discard foil.
Preheat broiler.
Broil the gratin for 5 minutes or until cheese is brown and bubbly.
Holiday Green Beans with Red Bell Peppers and Almonds
Serves 8.
Prep time: 45 minutes
Secret Ingredient: red bell peppers
Red bell peppers have been shown to offer protection against heart disease and cancer.
2 1/4 pounds green beans, ends trimmed
2 tablespoons olive oil
3 large red bell peppers, thinly sliced
1 large onion, thinly sliced
1/4 cup chopped fresh marjoram
3/4 cup sliced almonds, toasted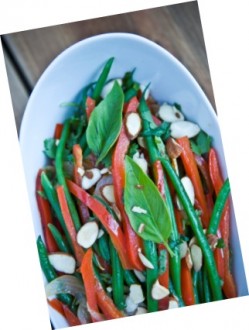 Cook green beans in large pot of boiling salted water until just crisp-tender, about 5 minutes. Drain. Rinse with cold water. Drain well; set aside. Heat 2 tablespoons olive oil in heavy large skillet over medium-high heat. Add the peppers and onion and sauté until peppers are crisp-tender, about 8 minutes. Mix in marjoram and almonds. Serve warm.
Pumpkin Bread Pudding
Serves: 8
Total Prep time: 1 hour
Secret ingredient: pumpkin
Pumpkin flesh is high in fiber and vitamins C and E, magnesium and potassium and a staggering amount of beta-carotene – a potent antioxidant and anti-inflammatory agent that prevents cholesterol build up in blood vessels that could lead to stroke or heart attack.
1 10.5 ounce day-old wheat baguette
2 cups fat-free half-and-half
2 eggs, lightly beaten
3/4 cup firmly packed brown sugar
1 cup pumpkin
1 teaspoon pure vanilla extract
1/4 teaspoon nutmeg
1/4 teaspoon ginger
1 teaspoon cinnamon
1/8 teaspoon allspice
3/4 cup dark raisins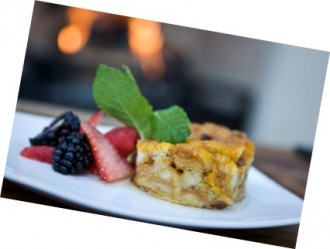 Preheat the oven to 350 degrees. Spray an 11- X 7-inch baking dish with nonstick cooking spray.
Cut the baguette into one-inch slices, then into cubes. Place in a large bowl and cover with the half-and-half, tossing the bread cubes to allow the liquid to soak in.
In a medium bowl, combine beaten eggs, brown sugar, pumpkin, vanilla and spices. Add to bread mixture with raisins and blend well.
Pour into baking dish and bake for 40-45 minutes.
---
Carving a niche for herself as the premier personal chef to Atlanta's discerning dining families, Caribbean-born personal chef Evelyn Paul takes great pleasure in recreating not only a five-star dining experience in the homes of her prominent clients, but the inviting environment of a mother's intimate kitchen as well.