Dine Like a Celeb
03.23.11

Yes, you can dine like one of the stars.  Better yet.  You can throw a dinner party that'll put Real Housewife of Beverly Hills Camille Grammar to utter shame, although without the drama.  Cotton Candy solicited the help of society hostess Airest Newsome, known for throwing fabulous soirées for the stars, including an upcoming dinner party for actress Tia Mowry – star of BET's "The Game."  She gives us six simple tricks to hosting your own celebrity-style dinner party in the comfort of your home.
No. 1  Plan Ahead
Before you reach for your apron to start cooking up a storm, grab a pen and paper and let your imagination run wild.  Brainstorm ideas about menu and drink options, décor, anticipated guests, seating arrangements, decorations and music selections.  Getting all your thoughts down on paper will ensure a seamless planning process.
No. 2  Have a Varied Guest List
Dinner parties are all about socializing and meeting new people.  Keep this in mind when creating your guest list.  Invite guests from varying professions, cultures, or even cities.  And don't worry.  They will all have something in common – YOU!
No. 3  Create a Menu Fit for a King (or Queen!)
Good company and good food go hand in hand.  Create a three-course meal for your guests including an appetizer, entrée, and dessert.  Keep it simple, and choose items you are comfortable with preparing.  Delicious fish dishes have low prep and bake times, and fresh fruit and fondue makes for a stress free dessert choice. And for the women with little time and even less patience, catering is always an option.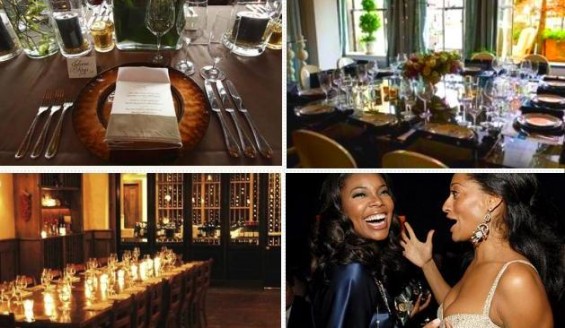 No. 4  Set the Right Atmosphere
When entertaining, simplicity goes a long way.  Floral centerpieces and candles can be just the touch you need for your celeb-style, dinner party decor.  Use candles and flowers that fit into your theme and color story.  Keep it simple and polished.  Select just a few colors that work and weave them into different elements in your tablescape including plates, napkins, centerpieces, and wine and water glasses.
No. 5  Have a Game Plan
Timing is everything.  When should the guests be seated for dinner? Should we play games before or after the food has been served?  How long should cocktails be served – all questions that will be running through your mind the night of your dinner party.  To ensure seamless transitions, always have a prepared mental itinerary. Knowing what to expect next will give you the confidence you need to gracefully transition from one part of the dinner party to the next.
No. 6  Remember the Role of a Hostess
Yes, as a hostess it is your job to ensure dinner is served on time and glasses are never empty.  But don't forget to be INVOLVED. Mingle and engage in conversation.  Introduce friends you think have a lot in common.  Join in on the games or groove to the tunes floating from the sound system.  Everyone has their eye on you.  If you are having a good time, your guests will too.
---
As a sought-after lifestyle hostess, Airest Newsome continues to combine her love of fashion and cuisine with
Dinner Party with Airest,
a budding event planning firm in Charlotte, North Carolina.  Newsome is the continual go-to woman for dinner parties for luxury designers, buyers for major retailers and several noteworthy fashion brands.