Kristi Yamaguchi: An Olympian with a Heart of Gold
01.24.13
During the 1992 Winter Olympic Games, a then 20-year-old Kristi Yamaguchi elegantly skated her way to a coveted gold medal — and into America's history books. With her daring double axle and triple lutz, Yamaguchi quickly found herself catapulted to fame, eventually labeled a perpetual icon for little girls across the country. The figure-skating champion has never thought to put her talents on ice, adding to her merits a New York Times bestselling children's book, recent fashion line, and most importantly, the role of mom to her achievements of note. Now the California native lives in the East Bay area near San Francisco and recently talked with Cotton Candy, filling us all in on Dancing with the Stars mania, how she gives back to her community, and the inspiration behind her fashion designs.
Cotton Candy: So Kristi, lots of celebrities decide to start a clothing line once they progress to a certain point in their careers. But you did something unique. You created tsu.ya, a line of activewear. Is that due to the fact you bring an athlete's perspective to design?
Kristi Yamaguchi: I think activewear just fits into my lifestyle, and it was really the route I wanted to go because I'm not schooled in fashion design. So, to be able to go into an area where I knew something about the comfort, the fit, and the functionality of activewear just made sense for me. … The goal behind the line was to really be functional and bridge that gap between solid activewear and a lifestyle type of clothes. It was fun to be able to add layering pieces, a tunic, and leggings that you can put over your workout clothes and still feel fashionable. I think women these days wear a lot of different hats, so I think they should be able to have a wardrobe that reflects all of the different things that a woman does.
(Click the photos below.)

CC: Tsuya is your middle name, right?
KY: Yes, it is my middle name. It's nice to be able to use a different name other than Kristi Yamaguchi. And I like my middle name. It was also my grandmother's name, and I like that it reflects my Japanese heritage.
CC: We heard that your line donates a portion of the proceeds to a good cause, the Always Dream Foundation, a not-for-profit you started in 1996. Tell us about it. Did you have a personal reason for starting the organization?
KY: Yes, I started it 16 years ago. It was really inspired by the Make-A-Wish Foundation and the work they do with children, and I really wanted to start my own. So, 16 years here we are with me really wanting to continue to grow and make a difference.  Now our focus is early childhood literacy.
CC: Speaking of children, you've got two young girls. Do they know how to figure skate and is there a chance they will take after mommy?
KY: My youngest one, Emma, who is seven, does take skating lessons. She's been taking them for about one year now, and she enjoys it. It's fun for her, and not too serious yet. I feel like she's getting something out of it just being a part of a sport. She's working hard at something and getting better when she practices. It's fun for me to watch and see her do that. But I'm not pushing her in that direction unless she really chooses to go there because I know it has to come from within, and it takes a lot of dedication if you want to do skating. (Giggles) Keara is 9 years old. She doesn't have interest in skating, but she plays softball, and she wants to be an artist. She's very artistic. She's a wonderful writer, and one day I see her illustrating and writing books.
CC: Now that you design clothes, who would you say you look to for inspiration for your fashion inspiration?
KY: I look to a lot different areas when I look for inspiration. Because I do want to infuse more fashion into [tsu.ya] I do try to look at more contemporary sports lines for inspiration. Adidas by Stellar McCartney I think has opened up a whole new area of upper-end, functional, fashionable activewear.
CC: How would you describe your personal style?
KY: I think years of skating where we wore a lot of costumes [influenced] me. I'm very feminine. I like to stay on trend and appropriate for my age. (Giggles) I'm very petite. I'm only 5'1" so think silhouettes that are closer to the frame look better on a petite person. That's kind of what I stick with.
CC: Obviously, you know a thing or two about succeeding in competition. What's your advice to people who have a dream but might be a bit scared of to go after their goals?
KY: I think anytime that you have a dream it's got to be pretty lofty. It's good to be scared. It's good to use that as motivation to put the work in and set goals for yourself to take small steps towards that dream. I think the ultimate dream should always be in the back of your mind, but remember to set smaller goals for yourself, whether daily or monthly. It makes that dream a bit more scalable. … Know that you should try your best, work as hard as you can, and then you never know what will happen.
CC: What is something that your fans don't know about you but you wish they did?
KY: Wow. You know I don't because I feel like I've put a lot out there. (Giggles)
CC: Your children's books are so cute, including the New York Times Bestseller Dream Big, Little Pig!. You've become a prolific writer wouldn't you say?
KY: Yeah, for some reason I've always had the desire to venture into a children's book. I love working with children. The tipping point came when I became a mom, and my husband and I spent a lot of time reading to our own two children, learning how important it was to introduce them and get them interested in books. And we got to see how they just soaked it all in, and that inspired me. I thought, "Hey, I keep reading this same story to my kids over and over again because it's their favorite, but I want to write something that could be one of those favorites too." (Laughs) So I think my kids inspired me to take that leap of faith.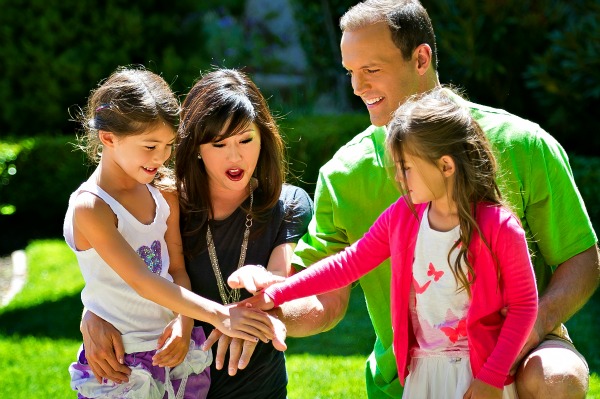 CC: Reality TV is all the rage these days. Can we expect you to star in a reality show starring you and your family anytime soon?
KY: No. (Laughs) Probably not. I just feel like we are a fairly ordinary family. Nothing special. Doing Dancing with the Stars is one thing. It's a competition, and there's an end goal in sight. So, I don't see a reality show in our future at all. Hopefully not. (Giggles)
CC: Which is more competitive? Dancing with the Stars or figure skating competitions at the Olympics?
KY: I think it's hard to compare anything competitive-wise to the Olympics because it's such a lifelong pursuit. It's the ultimate goal of an athlete. It took 14 years for me to make the Olympic team. Don't get me wrong. Dancing with the Stars is very competitive and stressful and exhausting. But at the same time, it's a TV show. It's not going to change your life like the Olympics. But it's fun! It's a great show for whoever wants to be a part of it.
CC: You were the first Japanese-American to win gold in the Olympics Games. What other firsts do you see in your future?
KY: I think I'm really proud of what my foundation is doing right now. What we are integrating into reading programs is the digital technology. Education is changing so rapidly, and everything seems so new. So we're an innovator who's not only bringing reading programs to kids but introducing to technology that's cutting edge.
CC: We can probably guess what most people think your biggest accomplishment is, but we want to know what you describe as your greatest success?
KY: There's the obvious, the Olympics. But I think on a personal level the most gratifying role I've ever played is being a mom, and as cliché as it is, I think you never realize how proud you can be until you're a parent and watch your children. It's amazing. So for me, it's being a mom. (Giggles)
Written by: Nicole D. Smith