Jazzy Jaslene
09.28.11

From reality TV star to authentic fashion model, Jaslene Gonzalez has successfully transformed her career into every model's ultimate dream. First introduced  in America as the season eight  winner of America's Next Top Model, Gonzalez has gone on to model for Armani Exchange, walk in both Mercedes-Benz Fashion Week Swim and Mercedes-Benz New York Fashion Week, and has strutted on the runway of BET's Rip the Runway. Cotton Candy caught up with the Latina sweetheart before she walked down the runway for Atlanta's ArteFashion Museum, which is holding an event benefiting the Make-A-Wish Foundation.  The stunning beauty shared with us what's glamorous about modeling and some things that are not.
(Dolls, click the photos below.)

Cotton Candy: We have to know. Do you ever get nervous in front of a camera?
Jaslene Gonzalez: There are still some occasions where I am nervous. It all depends who's behind the camera,  and in most cases you want to look good and make a good impression. So I try and conquer the feeling of being nervous with confidence.
CC: What's the biggest misconception you feel people have about modeling?
JG: That models are dumb. That is very false. Models are actually self sufficient and intelligent. We all come from different walks of life, and there's a lot of information and intelligence behind someone's story.
CC: What's the least glamorous part of modeling? What's the best part of modeling?
JG: The least glamorous part of modeling is trying to get to your castings, many trips, and all of the changes that are involved.  The best part about modeling is traveling. Your life becomes a road map. I thrive for new experiences in new places.
CC: Not too long ago, Cotton Candy Magazine® interviewed Nigel Barker. Do you ever talk to any of the judges on ANTM, including Trya Banks?
JG: Yes. Actually I saw Nigel Barker in [Washington] D.C. a few weeks ago. It was so nice to see him, and he shared great advice about modeling with me.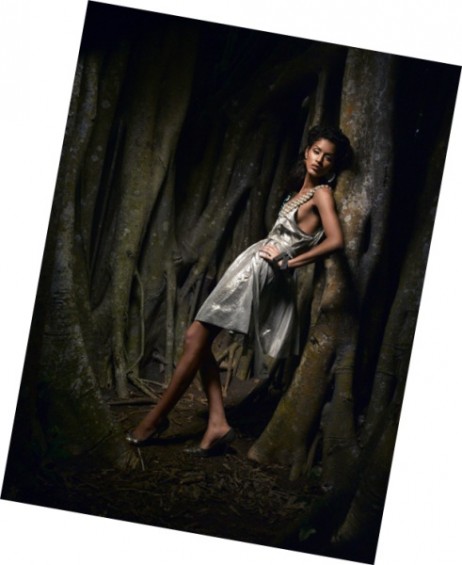 CC: How do you see your family and friends when you travel so much?
JG: Through Skype! (Laughs)
CC: What's the first step to becoming a model, for those who want to make a career of it?
JG: Look for an agency, a good reputable one.
CC: Which do you like better: studio photography or runway walking?
JG: I like them both equally. Runway I live for and studio shoots allow me to use my creative skills and model with good lighting.
CC: Do you ever deal with criticism?
JG: Sometimes I can be my own worst critic.
CC: In your opinion, what's the one piece of clothing that every woman should have in her closet?
JG: I think every woman should have a robe. I personally love being in one.  It's the most comfortable piece in my wardrobe.
CC: Why'd you decide to be a part of Atlanta's ArteFashion Museum fashion show, an event benefiting the Make-A-Wish Foundation?
JG: It's going to be good! If there's one charity that I hold dear, it is Make-a-Wish Foundation. I've had memorable experiences working with them. I'm happy to support any charitable needs.
Written by: Nicole D. Smith