Chanel Iman: The Darling of Fashion
11.01.10

There's more to being a supermodel than just having just a pretty face. Victoria's Secret model Chanel Iman is always ready to open her heart and share the soft, genuine side many don't get to see. Cotton Candy met up with the 20-year-old, dazzling beauty in Manhattan's SoHo neighborhood to talk life, love, and of course fashion.
Cotton Candy: We're here tonight to celebrate the launch of the Victoria's Secret PINK NFL collection.  Do you think it's possible for a women to be attractive while decked out in football gear?
Chanel Iman: Yeah, I think so. I think at Victoria's Secret PINK has such amazing, comfortable, cool, glamorous sweatpants and sweatshirts. It's something that a girl can wear to a game and feel confident about who she is.  With all the glitter and sparkle, you feel in style.
CC: Do you think guys are more attracted to girls who are into football?
CI:  Well, I know what I like. I like a guy who's just into sports in general. Not just football.  I like a guy who can play a range of sports. It's just a man thing. I like it, yeah. (Smiles)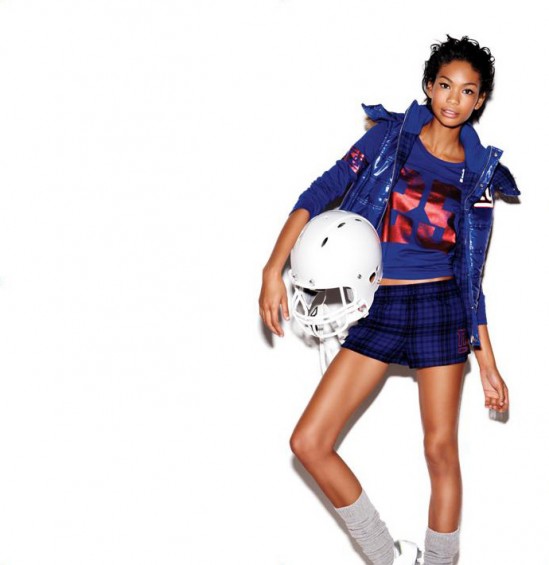 CC: What do you like to wear around the house?
CI: Just sweatpants, a t-shirt or a tank top. (Giggles)
CC: Your fashion must-haves?
CI: I would definitely say a black leather jacket. And I must have the PINK sweatpants and just very comfortable underwear.
CC: What do you find attractive in a guy?
CI: Confidence. Just them being themselves and not overdoing it.
CC: What do you find most attractive about yourself?
CI: Hmmm.  I think my ambition to just want to live my dream.  I'm just very ambitious. And I won't stop 'til I get what I want. So, I think that's what I really like about myself. That I'm a go-getter. (Nods head)
CC: So when you face a disappointment, how do you encourage yourself?
CI: I just… I pray. I pray all the time to get encouraged. That really helps me.
Written by: Natasha D. Smith