The 10 Beauty Commandments
07.26.11

There are many women who adhere to specific skincare regimens, as if set in stone by Aphrodite, Venus or Saint Estée Lauder herself.  Their makeup is applied so routinely and meticulously that it seems as if nothing has changed in their technique since they were first taught to apply it as teens. Which means it can be angelic, or truly outdated. Sound familiar? No worries. Cotton Candy beauty contributor Rachael Perrin shares her ten commandments to keep you looking beautiful and fresh.
I began wearing makeup in the 80s, experimented with the trends of the 90s and trained to be a professional artist in late 2002. After three decades of ever evolving beauty trends and Holy Grail products being discontinued or reformulated, I simply stopped following a set routine.  I properly care for my skin, and absolutely do wear makeup – it's just different every day.  I don't subscribe to any absolutes when it comes to skincare and makeup technique, yet I still have something in common with those who follow a strict regime, ten commandments that can't be ignored.
10 BEAUTY COMMANDMENTS
I. Thou shall keep it fresh: If only from a social viewpoint, it's important to smell and look fresh.  If all you have on hand are a few cleansing wipes and deodorant, use them.  Keep a pack of no-rinse mouth freshening brushes in your bag, if you're always on the run.  However, don't overdo it with fragrance – just keep it simple.
II. Thou shall keep clean: Makeup should never touch your pillowcase at night.  A well-cleansed and exfoliated face is the best palette for self-tanner, sunscreen and makeup.
III. Thou shall not bake – your skin, that is: Sunscreen is the key to youthful skin, but some people experience reactions to the broad-spectrum ingredients.  In case of sensitivity, choose one with titanium dioxide and zinc only.
IV. Thou shall be kind to your tresses: Skip shampooing daily and give your dryer and irons a break. When used sparingly on roots and before hair gets oily, dry shampoo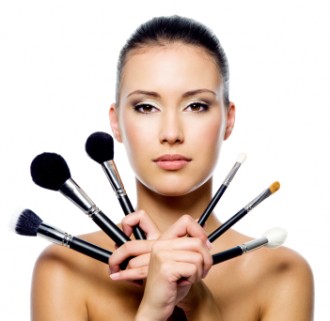 will extend a hot set or blow-out by up to three days. Try Oscar Blandi Pronto Invisible for all hair shades, at Ulta® and Sephora® stores.
V. Thou shall not ignore dark or gray roots: Clairol Nice N'Easy Root Touch up blends them away until your salon appointment, within ten minutes.
VI. Thou shall not wear bronzer in place of foundation: Use bronzer to contour along the cheek and jaw bone, even one touch on the eye lids. Then apply a bold blush, like Becca Cosmetics' Flowerchild to the apples of the cheeks to achieve a vibrant glow.
VII. Thou shall not covet thy neighbor's mascara: It's unsanitary to share mascara as it's one of the fastest expiring cosmetics. Sharing may cause pink-eye and other infections.
VIII. Thou shall define: Black eyeliner on the inner rim of the upper lid fills space between lashes.  Add mascara and admire the noticeable difference.
IX. Thou shall have soft, pouty lips: No lip color will ever look good on peeling, chapped lips, especially not stains, frosts or dark shades. Exfoliate them gently with a soft toothbrush or a lip scrub. Add turbinado sugar to balm to make your own.
X. Thou shall honor thy health over appearance: Don't ignore product warnings or recalls. Also, beware of the deal that's too good to be true. There's usually a good reason.  Do your research, create your routine and be your own beauty guru.
Cotton Candy Contributor: Rachael Perrin
Rachael Perrin is an experienced makeup artist represented by Artists by Timothy Priano.