Makeup on the Go
11.10.11

For the on-the-go woman, life would be a lot easier to simply put on your morning makeup in a few short moments and be out the door. No brushes. No pens. No more compacts or bottles. Perhaps like a sticker.  Just apply, peel, and be done. We have the solution.  There's been quite a bit of buzz around stick-on cosmetics. Just apply the pattern or color, and then peel. This type of stick-and-peel makeup – decal makeup – is rapidly becoming a fave of makeup artists and product junkies for its designs and simplicity. Cotton Candy beauty contributor Rachel Perrin shows us this could be the answer to your morning makeup woes.
No. 1 The most recognizable form of stick-on cosmetics is polish nail strips. They are quite easy to apply and allow the wearer to stick-on, then file for a smudge-proof manicure that is immediately dry.  Save yourself a trip to the salon by choosing either a basic color or an intricate design normally created by specialized air-brushing.
No. 2 Reusable velvet eyeliner decals are garnering an amazing amount of attention this fall. For those of you who envy the steady-handed woman who can draw a perfectly lined cat-eye then these are for you.  The set comes with four styles, each one more exaggerated than the last.  Many reviews say they take a little practice to apply properly, but once attached, women enjoy feeling all eyes on them.
No. 3. If you've seen anyone running around with glossy, vinyl textured lips with a heavily glittered surface, a fun print, or even a pink ribbon for breast cancer awareness on the bottom lip, you've seen temporary lip tattoos, which are not for the faint of heart.  These are so remarkable; in fact we may see more muted shades suitable for daily wear.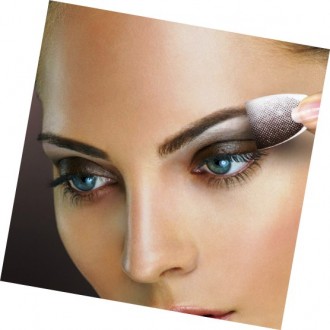 No. 4 Until recently, a beautifully blended application of eye shadow with one swipe of an applicator was unimaginable.  However it's now completely realistic. There are a couple different decal forms with eye shadow on them that can be either swiped across or pressed lightly to the lid to deposit color, depth and shape. Whether you lack a steady hand, good eyesight, makeup know-how or time, beautifully crafted eye makeup can be completed in short order.
No.  5 While not technically a cosmetic, eyelid tape is a fun invention that allows the wearer to change their eye shape. More popular in Asia and mostly found online, it can actually give a drooping lid a quick lift allowing for easier makeup application.
No. 6 While stick-on makeup may be a burgeoning field, adhesive cosmetic enhancements have been around for a while with very little fanfare – but deserve mention. Reusable false eyebrows can be life changing to those with alopecia (hair loss) or going through chemotherapy. They come in a variety of shapes and shades that look quite realistic when applied properly.
---
Written by: Rachel Perrin
Perrin is a makeup artist and studio hair stylist with Artists by Timothy Priano and The Bridal Team Chicago.  An admitted product junkie, Perrin's work has been recently published in Cosmopolitan, Maxim, Good Housekeeping and Grace Ormonde Wedding Style, and a number of European publications.